That's Just Criminal! Craziest Mugshots Of Halloween Revelers Caught In The Act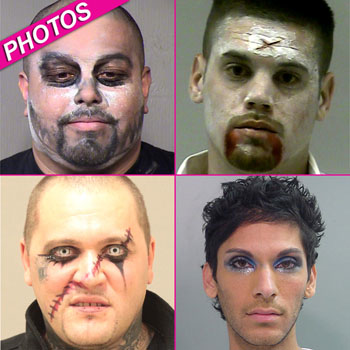 It's that time of the year again, Halloween is upon us and the festivities are already fully under way, with the witches, pirates, zombies and superheroes all out in force to celebrate their favorite holiday.
But not everyone can mix dressing up with drinking and partying without landing on the wrong side of the law, and RadarOnline.com has a round-up of the craziest and funniest Halloween revelers' mugshots, courtesy of The Smoking Gun.
Article continues below advertisement
Check out the Superman who couldn't fly his way out of getting arrested by cops in Arizona for disorderly conduct and fighting….. and the Blue Man group impersonator who couldn't act his way out of his drunk driving arrest.
Then there's the sexy kitty cat, complete with drawn on face whiskers, pulled over for reckless driving….. and a zombie who just lost his way.
There's a Hulk who couldn't smash his way out of the drunk tank and a Guy Fieri look-a-like who couldn't eat his way out of being drunk and disorderly.
One raccoon got way too out of hand in the streets and a hellish looking demon acted a little too devilish for the cops' liking.
Then, there's the zombie princess who couldn't charm her way out of a night in jail, and a ghost who drank too much to be invisible.
Check out the whole, hilarious, gallery here.
Remember to drink responsibly and have a happy Halloween…. otherwise you just might be making an appearance with this sorry lot!