Nick Nolte: Down And Out In Malibu!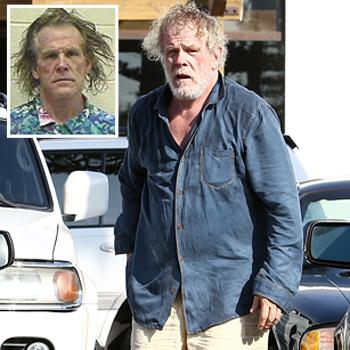 Maybe he's filming a sequel to the 80s classic Down and Out In Beverly Hills, in which he played a troubled tramp.
Or he could be trying to recreate the disheveled look he sported in a mugshot in 2002 after being arrested and charged with driving under the influence.
Either way Nick Nolte looked very worse for wear when he was spotted out and about in Malibu on Friday.
Wearing a rumpled denim shirt that hung over his body, the 72-year-old actor looked swollen and red in the face.
Article continues below advertisement
Ten years on his hair was just as ruffled as it was in the notorious mugshot – one of Hollywood's most iconic -- just shorter and a lot grayer.
Earlier this year Nolte told GQ magazine the 2002 photo was taken by a police officer at the hospital where he was getting a blood test after being arrested.
But Officer Leland Tang from the California Highway Patrol told ABCNews.com: "I don't think he really remembers what happened that day."