GMA's Sam Champion To Wed!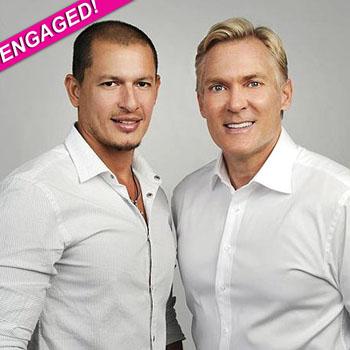 Sam Champion is predicting a lifetime of sunny skies for him and Rubem Robierb.
The Good Morning America weatherman and the Brazilian-born fine arts photographer are engaged.
"I've never been happier to share a bit of personal news!!" Champion tweeted.
"We are thrilled and so excited, and thank everyone for their good wishes," he added in a statement released by ABC.
The pair will wed in New York, where same sex marriage is legal, and then celebrate with a festive reception on New Year's Eve in Miami.
Article continues below advertisement
The engagement continues the good news coming out of GMA.
As RadarOnline.com reported, Good Morning America is now crushing the formerly-dominent TODAY in the ratings.
And beloved anchor Robin Roberts is on target with her recovery from a bone marrow transplant, blogging on Thursday that she hopes to be released from the hospital by the end of next week.
She's not planning on returning to her TV studio until after the first of the year, but with any luck will be able to make it to her pal Champion's wedding.
MORE ON:
Good Morning America