Exclusive
Real L Word Stars Whitney Mixter & Sara Bettencourt On Married Life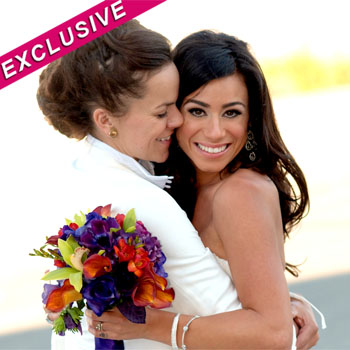 By Amber Goodhand - RadarOnline.com News Editor
The Real L Word stars Whitney Mixter and Sara Bettencourt tied the knot in the season finale of the hit Showtime series and gave RadarOnline.com an exclusive interview on married life.
The two got engaged this past spring and just months later they exchanged vows on June 17 at Limoneira Ranch in Santa Paula, Calif. surrounded by their family and closest friends.
"The wedding was insanely beautiful. All of the planning and running around really paid off and the day could not have been more perfect," Whitney told RadarOnline.com in an exclusive interview.
Article continues below advertisement
"I remember standing at the alter waiting for Sara to walk down the aisle and my heart was pounding out of my chest. As soon as I saw her walk from behind the orchards it's like I couldn't prepare myself for how beautiful she looked."
Sara said having both her parents there with her and walking down the aisle to Whitney was one of the best moments of her life.
"The most profound moment was waiting at the end of the aisle with each parent at my arm. I could see Whitney waiting for me at the altar and it was such a surreal moment," she said.
"Walking toward my soul mate and best friend knowing that I was giving myself completely to her was and will always be one of the most remarkable moments of my life. She was so beautiful and vulnerable standing there before me, I had absolutely no doubt in my mind that this was the best decision of my life."
Whitney and Sara dated on-and-off for a couple years — with every moment of their relationship, good and bad, playing out on The Real L Word — before finally cementing their union this summer.
Article continues below advertisement
"Married life is great but it's not much different than before," the girls said.
"We had made the commitment to one another prior to the wedding and were both 100 percent devoted to one another, the wedding was the icing on the cake. We're married to our best friends, what more can you ask for?"
And while same-sex marriage isn't legal in California right now, the girls also had a ceremony in Connecticut where gay marriage is recognized, but they're hopeful it will soon be made legal all over the United States.
"With such profound actions as President Barack Obama coming out as being a supporter along with other prominent people in the public eye, it's started a shift among those that where on the fence. It is truly unfortunate that in this day and age we are still trying to put restrictions on who people can love," Whitney said.
"We hope that our role on this show can also help people see into the life of a same-sex relationship and see that we are truly in love and that we are deserving of the same rights as heterosexual couples."