How Humiliating! 18 Really Embarrassing Celebrity Photos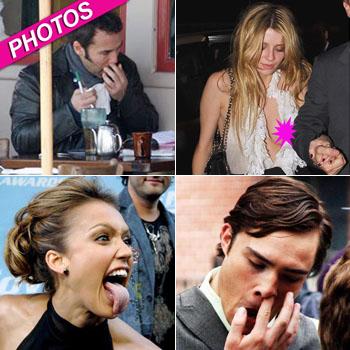 Every Hollywood star has experienced some form of public embarrassment, but a few of those horridly humiliating moments have been caught on camera!
From wardrobe malfunctions and panty-flashing to nose picking and tripping, celebrities are constantly getting snapped during the most unfortunate of events. RadarOnline.com has photos of 18 of the most embarrassing celebrity moments caught on camera.
Article continues below advertisement
Brad Pitt is usually calm and collected on the red carpet but even the dapper actor commits a faux pas every now and then!
While promoting The Curious Case of Benjamin Button in 2009, Brad experienced a little wardrobe malfunction when he forgot to zip up his fly during a press event in Paris!
Got crack? Jennifer Garner is such a doting mother, that she always puts her kids in front of fashion, but she probably regrets the decision to kneel down to her daughter's stroller a few years back when she was wearing a pair of low-slung jeans!
Which other stars have been caught in really embarrassing moments on camera? Find out by clicking here.