Loving Lotharios: Diane Keaton Dishes On Affairs With Al Pacino, Warren Beatty & Jack Nicholson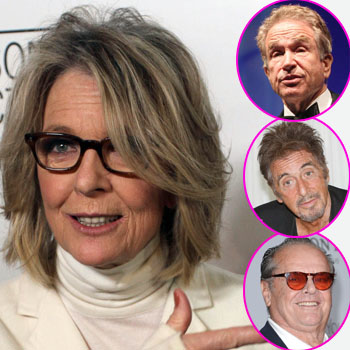 Al Pacino, Warren Beatty, Jack Nicholson, Woody Allen - no, it's not the cast of Garry Marshall's next ensemble, but rather many of the A-list suitors Hollywood great Diane Keaton has dated, and the actress dishes on her Tinsel-laced romances in a new Ladies' Home Journal interview.
The 66-year-old Oscar winning star of screen classics such as Annie Hall and The Godfather trilogy tells the magazine her love life was tainted because she just wasn't "the right kind of woman" for the impressive list of leading men.
Article continues below advertisement
"Managerial skills are necessary to handle men like that, and I'm not the manager type," the never-married beauty said. "I also don't think I have a lot of nurturing skills."
Diane speculated that the combination of two high-maintenance personalities in the relationships might have made for mismatched romances, no matter how many great shots it made for the paparazzi.
"I needed as much as they needed and that's not a good mix," she said. "I didn't choose wisely for a long-term partnership where we could weather experiences together and be there for each other."
Bradley Cooper & Zoe Saldana Brought Back Together By His Mom!
Katy Perry 'Dangerously In Love' With John Mayer, Friends Fear It Will End In Tears
Robert Pattinson & Kristen Stewart Secretly Meeting In Pal's Guest House