MOVIE REVIEW: Morning Glory Gets Girl Power Right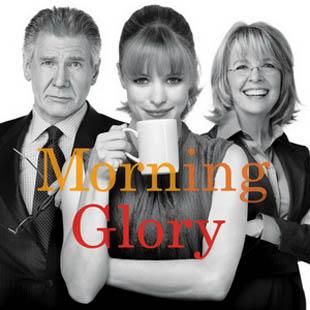 The new comedy Morning Glory takes a funny look at the struggles a laid off TV producer goes through as she searches for well-rounded happiness: a good job and a good relationship.
Spunky Rachel McAdams, who looks great as Becky Fuller in tailored business clothes (she even makes running around without her skirt look more hilarious that mortifying!), loses her job producing a morning show only to land a gig at the fourth place network morning show.
Article continues below advertisement
Her first day on the job she replaces the abusive male anchor with an award-winning newsman named Mike Pomeroy, played flawlessly by Harrison Ford, who is defiant in his attitude that he will only do hard news on the program which has the lowest ratings and a penchant for cooking segments.
Ford joins Diane Keaton's former beauty queen Colleen Peck and the on-screen chemistry between the two makes them lovable despite their flaws.
Becky's struggles with the failing show come to a head when she is told she has six weeks to get the ratings up or the show is cancelled.
Dressed to the nines, she does whatever she can to get people watching the show, and the wacky direction she takes, with everyone in the newsroom on board, bounce the ratings. However, the biggest scoop comes from Harrison Ford's curmudgeon character's political story that saves the day.
Article continues below advertisement
Rachel's on-screen romance with the gorgeous Patrick Wilson as Adam Bennett is believable in its naturalness. It is refreshingly fun to watch as he tries to give her advice about her new boss.
The film is cheerful and entertaining with an abundance of terrific performances. Besides the A-list stars helming the film, the weatherman and the Hollywood reporter steal their fair share of scenes as well.
From the writer of The Devil Wears Prada, Morning Glory opens in theaters on Wednesday, November 10.