Shockingly Cheap Movie Date: Digs Old Popcorn & Soda Out Of The Garbage For His Wife!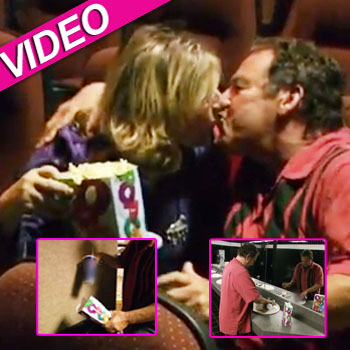 By Amber Goodhand - RadarOnline.com News Editor
Talk about a cheap date!
In a shocking preview clip of TLC's Extreme Cheapskate obtained by RadarOnline.com, Roy takes his wife on a date to the movies and instead of splurging for popcorn and a drink, he digs an old popcorn bag and soda cup out of the trash can.
"I can't believe Roy brought me to the movies. I haven't been to the movies in so long," his wife said, excited for their date.
Article continues below advertisement
"It's a big waste of money to buy food at the snack bar with concessions in any movie theater," Roy says as he shows a banana he snuck into the theater.
"By bringing my own snacks I save at least another 10 dollars."
But Roy's wife doesn't want the apple he brought for her and tells him she wants popcorn or candy, so he goes through the garbage cans and finds someone's used popcorn and soda cup.
After dumping the soda out in the bathroom sink and giving it a quick rinse, he returns to the concession stand for a free refill.
"I know this movie theater gives free refills with their popcorn and soft drinks," Roy says.
"So I found a few containers in the trash and surprised my loving wife. You can't beat free!"
Check out the full episode of Extreme Cheapskate during their finale on TLC Tuesday night at 10/9c.