Blind Man Tasered By Police Who Mistook His White Cane For A Samurai Sword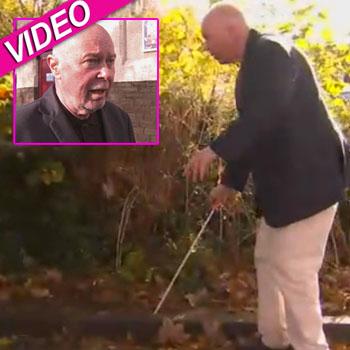 By Debbie Emery - RadarOnline.com Reporter
Maybe it is the cops that need their eyes tested!
A British blind man pleaded for mercy when he was the victim of an unprovoked attack by police who mistook his white cane sword.
Stroke victim Colin Farmer, 61, of Chorley, Lancashire, collapsed to the ground in shock after being blasted by 50,000 volts of electricity when the police opened fire as he innocently struggled down the street, reported U.K.'s Sky News.
Article continues below advertisement
Police had received reports of a man walking through the town armed with a deadly martial arts weapon and raced to the scene to hunt down the offender, but instead they found the elderly blind man who was walking at a "snail's pace" to the local pub to have a pint of beer with his friends.
He was oblivious to the eye witness report regarding him until Lancashire police officers pulled the trigger, sparking screams of: "I'm blind! I'm blind!"
"The whole thing was like being trapped in a nightmare," Farmer told local newspaper, the Chorley Guardian, explaining that he thought he had been "attacked by some hooligans," until the cops threw handcuffs on him.
He was taken to Chorley Hospital for treatment and was later released without charge.
Chief Superintendent Stuart Williams, from Lancashire Police defended the extreme response, claiming: "One of the officers believed he had located the offender. Despite asking the man to stop, he failed to do so and the officer discharged his Taser.
Article continues below advertisement