'Rockstar' Chad Kroeger Admits That Fiancee Avril Lavigne Doesn't Listen To His Music, Talks Sex Life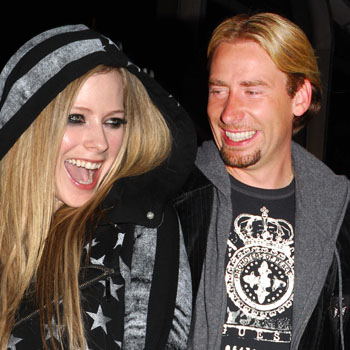 Chad Kroeger may be a Rockstar, but the Nickelback lead singer's biggest fan is definitely not his fiancee!
The 37-year-old, who got engaged to fellow Canadian musician Avril Lavigne over the summer, reveals in a new interview with Men's Health that his wife-to-be wouldn't even be able to identify one of his hit tunes, and RadarOnline.com has the details.
When asked if one of his band's sexier songs was on his and Avril's bedroom playlist, Kroeger admits that even if it was, Lavigne wouldn't know it!
Article continues below advertisement
"If a naughty Nickelback song came on, my fiancee would probably ask who it was," he dishes. "She'd be like, 'Who's this? This is good. I like it.'"
"I'm terrified that some day she's going to listen to some of the things I've written, and I'm going to have some explaining to do. There's going to be a whole question-and-answer period following that one."
And when asked if his declaration to Playboy four years ago, that he was a "walking penis" when it came to his promiscuity, had changed since hooking up with the Complicated singer, he wasn't bashful about his current status.