Tyra Banks On Sickly Skinny Youth, 'I Was The Brunt Of Every Joke'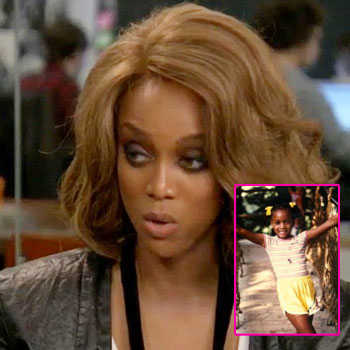 Even Tyra Banks suffered through an "ugly duckling" stage.
Before the smokin' hot America's Next Top Model host became one of the highest paid supermodels in the world, she says she struggled with putting weight on her "sick and frail" looking body, and RadarOnline.com has the details.
"When I was 11 years old, I grew three inches and lost 30 pounds in three months. So I went from being a mean bully, cute little chubby little girl to shooting up, weighing 98 pounds and just looking sick and frail," Tyra revealed in a segment of HuffPost Live.
Article continues below advertisement
"I wasn't sick, but people thought there was something wrong with me. I was the brunt of every joke, every bad thing. I hated my reflection in the mirror. I would try to stuff food down my throat to gain weight. Nothing would work. I lived at the hospital with needles in my arms trying to figure out what was wrong with me."
The 38-year-old, who later went on to lose jobs because she was considered too curvy, continues to reveal how her early struggle affected her from then on.
MORE ON:
America's Next Top Model
"Even though I later gained weight and became a supermodel, that girl always lived inside of me and I know what that felt like. Then to become a supermodel with all of this hair and makeup and glamour... Then I start projecting images that I know make my 11-year-old self insecure, I felt like I had and still have a responsibility to tell the truth and to talk about my pains, my issues. So my passion is girls and self-esteem."