Teen Beats Cancer, Then Wins $250,000 In Lottery!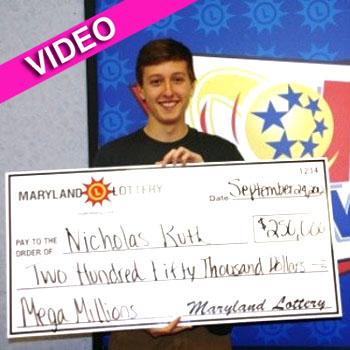 A 19-year-old teenager, who beat cancer as a kid, has won $250,000 after matching five numbers in Maryland's Mega Millions drawing.
Nick Ruth bought three tickets at a 7-Eleven store near his job as a dishwasher on the day of the drawing last Friday. He told lottery officials he has regularly played the lottery for the past year. In a stroke of good luck, Ruth says he wasn't scheduled to work on Friday, but still drove to the store to pick his numbers because it "just felt right."
Article continues below advertisement
Although the drawing was Friday, he didn't check his numbers until Saturday evening. He says he couldn't believe it when he realized he matched five of the six winning numbers – giving him the second-tier prize.
Watch the video on RadarOnline.com
"I couldn't believe it, so I asked my mom to look at the ticket," Ruth said. "Once we figured out how much I'd won, we started to run all over the house screaming. After we calmed down, we looked at each other and started screaming and running again."
With his mom and aunt proudly watching, Ruth was handed a check for $250,000 from lottery headquarters Monday morning. After taxes, he will get about $165,000.
Ruth -- who hopes to become a police officer -- told lottery officials that he plans to pay off his car, put some money in the bank, and donate to charity.
"As a cancer survivor, it is really important for me to give back. I want to 'pay forward' what some wonderful local organizations did for me, so I am definitely going to donate money to cancer organizations."