Exclusive
Natalie Nunn Sex Tape Stolen, Blackmailer Threatens To Leak It Unless She Pays Up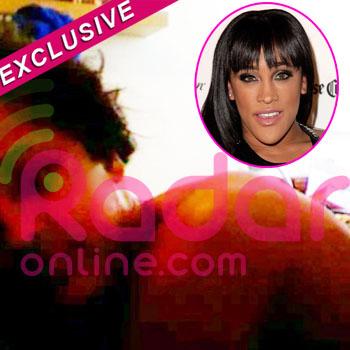 Article continues below advertisement
"They were in New York doing promos for Bridezillas and at first she thought her iPad was taken directly out of her hotel room, but then realized she had left it on the subway."
The possibility of being revealed on the Internet in all his glory has mortified Nunn's husband of four months, Jacob Payne, who lambasted his wife for not locking her tablet up when she knew there was naughty footage on there.
"He is an athlete and not a Hollywood guy and wants nothing to do with being exposed," says the pal.
After coming to terms with the reality that she had lost the precious footage, Nunn, 27, told her friend she was shocked to discover last week that the person who found it wanted big money to keep it secret.
"Someone starting threatening Natalie saying they were going to sell the footage, unless she pays up," explains the insider. "At first Natalie thought it was a hoax but then they sent a screen shot showing her and Jacob butt naked having sex, so she immediately called her lawyer."
Article continues below advertisement
"Natalie told me, 'It has been horrible, I wake up every day and check Twitter thinking someone is going to post it,'" reveals her concerned friend.
Along with the X-rated screen shot, the blackmailer warned Nunn that they planned to sell it to the highest bidder unless she paid them $100,000.
With a new marriage and a hot reality spin-off called Tea Party With Natalie Nunn, life has been so great for the former Bad Girl that she considered trying to buy back the footage to save the embarrassment.
"Her parents are so proud, and now this! They would die if they saw it, her dad is a deacon of her church and she hasn't had the courage to tell them yet. She just wanted it to go away," says the friend.
Rather than confessing to the blunder, Nunn invited her parents to Los Angeles and tried to show them how much she had changed since Bad Girls Club.
"She is dedicated to her new show and being respectable and hardworking," her friend tells RadarOnline.com. "People were saying she could be the next Wendy Williams, but if this comes out, there's going to be some serious drama!