Mayim Bialik Gives Car Accident Injury Update: Stabbing, Burning, Sharp, Searing Pain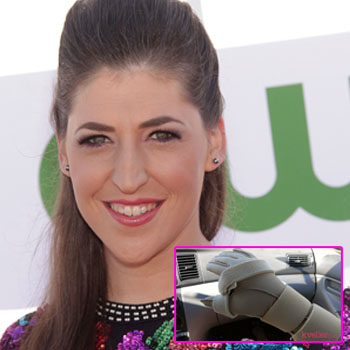 By Amber Goodhand - RadarOnline.com News Editor
Actress Mayim Bialik is recovering from a bad car accident nearly three weeks ago in which she almost lost her thumb, and RadarOnline.com has the latest update on her condition.
The Big Bang Theory star's car was struck in a Hollywood intersection on August 15 by a vehicle containing three Chilean tourists and while no one was cited at the scene, Mayim was taken to the hospital with major injuries to her right hand.
Article continues below advertisement
"Pain? Yes. Stabbing, burning, dull, sharp, searing? Yes. Grumpy and frustrated? Yes," Mayim posted on her website Wednesday, along with a photo of the glove protecting her hand.
"My right hand has had a wardrobe change. We've moved from two finger SPANX to an entire glove of a SPANX-like masochistic material. It's kind of cool looking if you think about it long enough and let your focus go blurry. I look like a comic book superhero villain. Mistress Glove, my husband has named me. It's for swelling and pain, by the way. And it scares my younger son."
As a mother of two, Mayim, 36, explains how she's adapted to be a "semi-functioning Mama again" despite her injuries, says she's looking forward to her husband, Michael Stone's mother to come into town to help out and divulges a crush on her physiotherapist!
"My Occupational Hand Therapist (who I hope doesn't read this) is very handsome. Prematurely grey hair, blue blue eyes, and full disclosure: skilled hands. (See job description for Occupational Hand Therapist.)" she writes.
Article continues below advertisement
"Seriously. Wish I could hang my second X chromosome up at the door when I go to his office. Alas."
Mayim was Emmy-nominated for her role on The Big Bang Theory this year in the outstanding supporting actress category and despite her injuries, returned to set this week.
RELATED STORIES:
Montana Man Trying To Pull Off 'Bigfoot' Hoax Run Over And Killed
Wynonna Judd's Husband Has Leg Amputated After Motorcycle Accident
Driver Claims Kendall Jenner Nearly Killed Her, 'She Was Texting And Driving!'