Lisa Marie Presley's Secret Life Exposed: Worked As A Fish And Chips Server!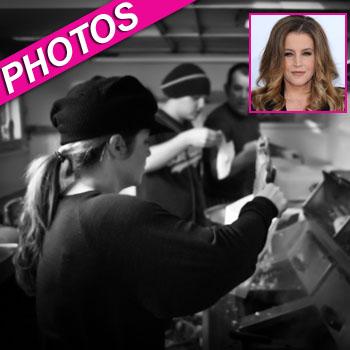 Her father once inspired the UK pop song: There's A Guy Works Down the Chip Shop Swears He's Elvis.
But now it seems a Presley really has served fish and chips in Britain.
Lisa Marie Presley spent a day dishing up the greasy meal from a food truck in the English countryside where she lives, and RadarOnline.com has the photographic proof!
"It was when she first moved to the village about two years ago," Kim Scales, the owner of the van and Presley's local pub The King's Arms, told the MailOnline.com.
Article continues below advertisement
"She is really interested in who people are and wanted to know all about our lives and how we live.
"We own the pub and a mobile fish and chip van, but she said she'd never heard of anything like it, and said she wanted to work on it."
"She got on there with her son Benjamin Keough, but we were all laughing because not one of the locals realized who it was.
"She served one local double fishcake and chips and he didn't have a clue that she was Elvis Presley's daughter."
MORE ON:
Lisa Marie Presley
But the 44-year-old singer – who has lived in the village of Rotherfield since 2010 – shouldn't give up her day job just yet.
Asked if she would hire Presley, Scales said: "No way! She got the fish all upside down and was totally cack-handed."
Instead the mother-of-four, who lives in a $14.5 million home with her husband Michael Lockwood and their twin daughters, will have to settle for just drinking at her local pub.