Lady Gaga Pays Tribute To Princess Di, Amy Winehouse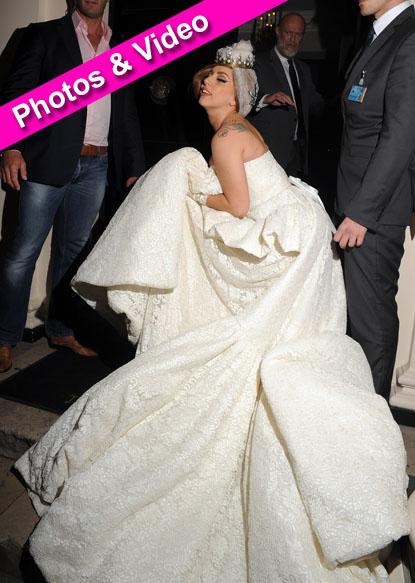 After arriving in what appeared to be a wedding dress, Lady Gaga paid tribute to Princess Diana and Amy Winehouse during her Born This Way Ball shows at Twickenham Stadium in London over the weekend, and RadarOnline.com has photos and video from the event.
Before playing the somber ballad, Gaga told the audience she expected "controversy" playing her tribute song for Princess Diana in London, adding: "Since I was a very young girl, the people's Princess was the most important person in me and my mother's life.
Article continues below advertisement
"I swore if I ever had an audience like this in London, I would take a moment to appreciate her."
The song features the following lyrics:
Leave the coffin open when I go
Leave my pearls and lipstick on so everybody knows
Pretty will be the photograph I leave
Laying down on famous knives so everybody sees
Bleach out all all the dark
I'll swallow each peroxide shot
Someone I'll know could love and save me from myself
Maybe I'll just clean the sh*t of these fancy shoes
I'll be a Princess Di and die with you
Chorus
I wish that I was strong
I wish that I was wrong
I wish that I could cope
But I took pills and left a note
I'm hungry from an anorexic heart
I've been trying to tell you how I feel
But was never very smart
I'm wrapped in silks made for Egyptian queens
I'll do it in the swimming pool
So everybody sees
During the concert, Gaga also saluted The Beatle's John Lennon, declaring him the "greatest songwriter ever", before covering his hit single, 'Imagine'.
Article continues below advertisement
Gaga -- who arrived at the concert venue wearing what appeared to be a wedding dress -- wore 15 different costumes throughout the show and even flashed her behind in a thong and fishnet tights.
She later tweeted: "Twickenham, im not even sure what to say. I'll never forget tonight. London you were the fairest of the ball. now THAT was f*cking fun.
After her show Sunday night, the 'Poker Face' singer joined Jay-Z and Rihanna and at a closing party for the Paralympics at The Arts Club in London.