Kate Middleton Nude In New Photos!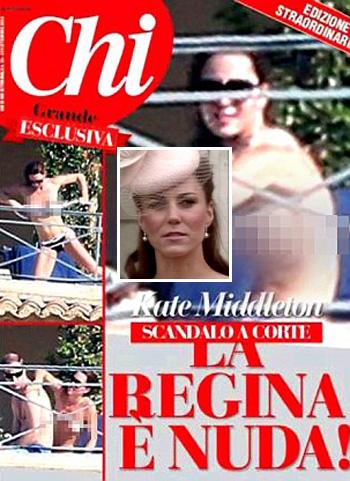 "The Queen Is Nude!" is the blaring headline on the cover of Monday's Chi, the gossip magazine that is publishing a stunning 50 pictures of Kate Middleton sunbathing in various stages of undress.
The Italian magazine is going on stands with a 26-page section devoted to the pictures, taken while Kate and Prince William were vacationing in France.
The magazine claims to have a total of 200 images taken while Kate was sunbathing, and while she is topless in many, the editor insists Kate is totally nude in others.
Article continues below advertisement
Editor Alfonso Signorini said he is not concerned about threatened legal action by the royal family. "Not even a direct call from the Queen" will stop him, he tweeted Saturday.
"I am convinced by this scoop that Chi will be publishing on Monday because that is what we are talking about. These pictures are not offensive or in poor taste, they are not morbid and they do not damage the dignity of anyone.
"These pictures were taken while the couple were on a terrace and they were taken from a public place so there is no suggestion of an invasion of privacy."
Even while the nude photo scandal grows, William and Kate are continuing with their royal duties. On Sunday they're in the Solomon Islands as representatives of the Queen as she celebrates her Jubilee on throne.
But the scandal, which began with publication of several topless images of Kate in the French magazine, Closer, and continued with more in a Republic of Ireland newspaper, can never be far from their minds.
As previously reported, William is so angry he wants to see the guilty photographers sent to jail.
In a statement issued on their behalf Saturday, a spokesperson said, "St. James's Palace confirms that legal proceedings for breach of privacy have been commenced today in France by the Duke and Duchess of Cambridge against the publishers of Closer Magazine France."
RELATED STORIES: