That'll Make Them Go Go! Honey Boo Boo Makes Lemonade With FIVE Pounds Of Sugar!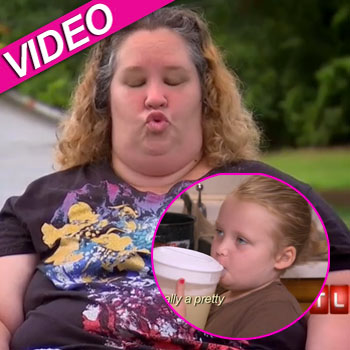 By Alexis Tereszcuk - Radar Entertainment Editor
If life gives you lemons (and five pounds of sugar)….
Honey Boo Boo is a little girl of many talents, and she shows off her latest one - making lemonade to sell on her stand - in a sneak peek of the upcoming episode of her hit show, and you can watch it right here on RadarOnline.com.
Honey Boo Boo's mama June Shannon explains that beauty pageants can cost thousands of dollars, from the glitzy dresses to the fake hair and teeth, and explains how their family can afford the costly contests – they budget!
Article continues below advertisement
"We're always trying to save money," Alana Thompson's mama says in this week's episode of Here Comes Honey Boo Boo.
Always the entrepreneur, seven-year-old Alana came up with the idea of making her super sugary concoction as a way to help pay for her bedazzled dresses and accessories.
"Honey Boo Boo had the idea of making a lemonade stand to save money for the pageants," June says.
"Pageants a big investment. I raise four kids and I'm able to do pageants as I budget. Honestly, we budget and I try to save money any way I can."