That's No Drag! RuPaul Wants To Sing Duet With Honey Boo Boo Child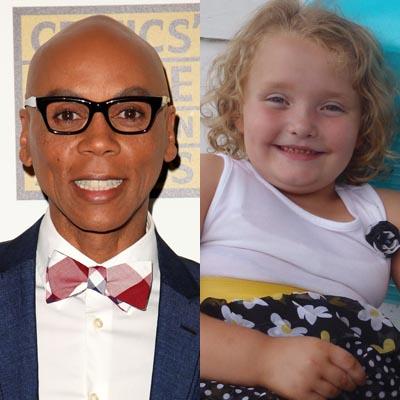 Honey Boo Boo is becoming one of reality TV's biggest stars, and in another confirmation of such, she's attracted the attention of longtime star RuPaul, who says he'd like to sing a duet with her.
"I'm doing a duet record and I'm here to ask Honey Boo Boo Child to be my duet partner!" the 'Supermodel' singer turned reality star told E!, adding, "She is real, she is lovely, she's funny.
Article continues below advertisement
"She doesn't take herself seriously. The whole family doesn't take themselves seriously. It's really just good fun. I love anybody who dances to the beat of a different drummer."
The star of RuPaul's Drag Race said the young beauty pageant contestant (real name Alana Thompson), who first gained fame on Toddlers & Tiaras, needs no tweaks to her image.
"Honey Boo Boo is there," RuPaul said. "She is the queen. She understands what drag is. That's what pageants are. That's why pageants are so lovely."
MORE ON:
Toddlers and Tiaras