Worst Call Ever? Replacement Refs Botch Monday Night Football Finish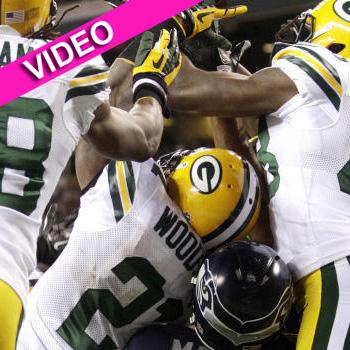 In the coup de gras in a weekend full of controversial calls from questionably qualified replacement officials, the Seattle Seahawks defeated the Green Bay Packers 14-12 on a touchdown pass at the tail end of Monday night's game in the Pacific Northwest, despite numerous replays that showed the Packers had actually intercepted the ball.
Here's how it all went down:
The Packers were leading 12-7 heading into the final play with 8 seconds left on the clock, when Seattle quarterback Russell Wilson tossed the ball into a crowd that included three Packer defenders and Seahawk receiver Golden Tate. After Tate committed a (penalty-worthy) shove off Green Bay's Sam Shields, he and Packer M.D. Jennings seemingly caught the ball at the same time, though Jennings had much more control of the pigskin.
Article continues below advertisement
The refs ruled the play a 24-yard touchdown for Seattle -- giving the home team a 13-12 lead over Green Bay -- and confirmed the controversial decision following a long review period. The Packers stormed off the field, only to have to return nearly 10 minutes later (as league rules necessitate the extra point be attempted after a touchdown).
Tate told SiriusXM NFL Radio that despite the controversy, the refs made the proper call.
"I know I had the ball in my hands the entire time … from the moment that it was catchable," Tate said. "I had my hands on the ball, just fought for it and tried to come down with it. I didn't know what they called, I just know that I had the ball in my hands and at the bottom of the pile I was just fighting to maintain that."
"Golden tate is full of s*** too," Packer Josh Sitton tweeted following the surreal loss. "Saying he clearly caught that is embarrassing! F***ing jokers!
Article continues below advertisement
Sitton and the rest of the Packers were predictably furious following the unprecedented turn of events.
Guard TJ Lang tweeted: "F*** it NFL.. Fine me and use the money to pay the regular refs."
Head Coach Mike McCarthy said he's "never seen anything like that in all his years in football," while Packers quarterback Aaron Rodgers called the game's final play "awful.
"Just look at the replay. And then the fact that it was reviewed, it was awful," said the reigning NFL MVP. "That's all I'm going to say about it."
Watch the video on RadarOnline.com
The NFL and the officials' union have been locked out since June.