Father Battling Backlash After Admitting He Favors One Son Over The Other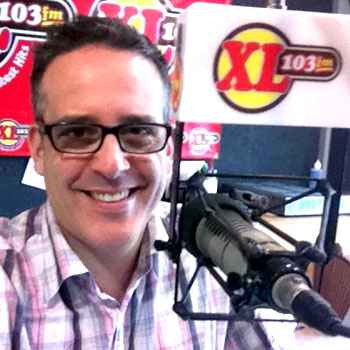 By Amber Goodhand - RadarOnline.com News Editor
You have a favorite child, right? You're not supposed to. But Canadian radio host Buzz Bishop has stepped forward stating he favors his older son and it has sparked a wave of controversy among other parents.
In a blog titled "Admit It,You Have A Favorite Kid. I Do," Bishop wrote, "If I were to be absolutely honest, my older son is my favorite of the two. He and I are adventurous partners in crime, and I can't imagine life without him. He was an accident waiting to happen, and I'm so glad it did."
Article continues below advertisement
Bishop, 42, says he favors his five-year-old, Zacharie, because he does more fun things with him, but argues that he doesn't love them any differently.
"Yes, I have a favorite son and I'm not ashamed to admit it. I'm guessing you could look deep in the mirror and admit you have a favorite too," he wrote.
"I admit it, my oldest son is my favorite because he can do more things. To me, he's more fun. I don't love either of my sons any more than the other, but I do like them differently. I'd be willing to bet you're the same."
Bishop is also careful to note that even though he prefers spending time with Zacharie over two-year-old Charlie, he doesn't treat them any differently.
"My choosing Zacharie as my favorite is not about 'playing favorites,' or 'preferential treatment' when I'm parenting. I don't let Zacharie get away with anything because he's my first pick, I just .. yknow .. like him better," Bishop says.
"From the moment Zacharie became old enough to 'do stuff', we have been out doing things. Fishing, camping, hiking, flying kites, riding trains, going to parks. So while Z was old enough to get out and have fun, his younger brother was still in the baby stage."
Article continues below advertisement
Parents are in a fury over Bishop's "honest voice" regarding the stigma of having a favorite child.
"Jesus H. dude. Keep it to yourself. Someday your little one will be incredibly hurt by this," one commenter wrote.
"It's very hurtful to say you have a fav. child. I hope when they can both do things which you deem meaningful, you will fav. them both," another writes.
But not all are opposed to Bishop's idea that it's okay to favor one child over the other and understand what he was trying to express.
"It could have just been worded better I think. Remember the TRUTH HURTS some people. But I know what you mean," a commenter wrote.
"I will always remember being in my mid-twenties when my Mom...after years of battling our differences looked at me and simply said. 'I always loved you...but now I can actually say I like you.'"
Do you think most parents have a favorite and are too ashamed or scared to admit it? Leave your comments below…