Exclusive
Tony Scott's Brain Cancer Could Have 'Affected His Ability To Think Clearly' And Caused Suicide, Says Neurologist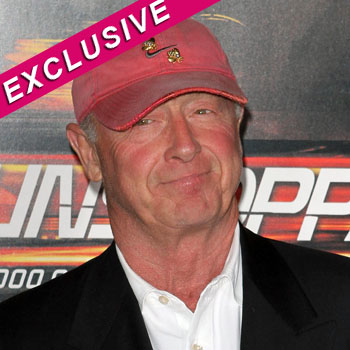 By Debbie Emery - RadarOnline.com Reporter
As new details emerge about the tragic suicide of Tony Scott, many are shocked at the manner in which he took his own life by jumping off a Los Angeles County bridge, and RadarOnline.com can exclusively reveal that the Top Gun director's decision-making skills may have been damaged by his terminal brain cancer.
"Brain cancer can affect the patient's ability to think clearly and it may lead them to think the situation is hopeless when in fact there are things that can be done," neurologist Lee D. Cranberg, M.D., who had not treated Scott, told RadarOnline.com in an exclusive interview.
Article continues below advertisement
"It could interfere with their decision making process and weighing up the pros and cons," he explained.
"Damage in different areas of the brain can cause different mental and cognitive function, and of course not just on the thinking process but the ability to sense things and make deliberate movements, such as move your arm or your leg."
As RadarOnline.com previously reported, the 68-year-old younger brother of famed filmmaker Ridley Scott jumped to his death from the Vincent Thomas Bridge spanning San Pedro and Terminal Island in Los Angeles Harbor on Sunday. His body was pulled out of the water several hours later by divers from the Los Angeles Port Police.
Scott left a suicide note at his office, law enforcement sources said, but police have not revealed what was in it. Craig Harvey, a chief at the coroner's office, said Scott also left several "instructional" notes to family and friends.
It has since been revealed that the Days Of Thunder director was suffering from inoperable brain cancer, although the exact type of the disease has not yet been revealed.
Article continues below advertisement
"Some kinds are amenable to surgery and chemotherapy treatment, others are rapidly advancing and usually fatal," explained Dr. Cranberg, who is a Clinical Instructor in Neurology at Harvard Medical School and a Staff Neurologist at Cambridge Health Alliance in Boston, Massachusetts.
"The most famous brain cancer sufferer of recent times is Ted Kennedy. He had a glioblastoma, which is one of the worst varieties of the disease and is almost always fatal," he said. "He lived for just over a year and then succumbed to it."
Scott may have been scared of losing his mental functions and wanted to end his life before he went into a downward spiral, explained the medical expert. "He could have worried about becoming co-dependent and needing to be cared for."
While a diagnosis of cancer is always devastating, it is rare for it to cause such an extreme reaction. "Suicides are not common for people who are diagnosed with cancer, most people soldier on if the cancer is in another organ and doesn't affect their thinking process," said Dr. Cranberg. "The vast majority do not commit suicide."
Article continues below advertisement