Tom Cruise Being Urged To Slow Down After Katie Holmes Split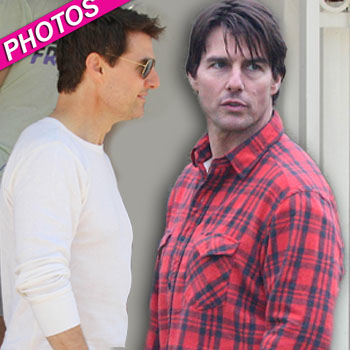 It's been a rough few months for Tom Cruise and now his body is reportedly taking the strain.
Following his shocking split from Katie Holmes in June family and friends are concerned about the Mission: Impossible star, who has been throwing himself full throttle into his career.
According to a UK magazine, Tom's appearance and heavy workload have led those close to him to ask him to slow down and take stock of his life.
Article continues below advertisement
"Tom's friends and family have urged him to take a break, but he has brushed off their concern," Grazia reports.
"He is refusing to slow down and is trying to soldier on. He doesn't seem to be himself. He hasn't been working out like he normally does and doesn't appear to be eating well at all. His clothes just hang off him."
The source went on to say: "His way of dealing with this is to throw himself into his work, but as a result he's not looking after himself and he risks cutting himself off from people who care about him and want to make sure he's OK."
MORE ON:
hollywood happenings
The 50-year-old father-of-three has reportedly lost 14 lbs. In photos taken in Malibu in late July the actor looks trimmer than he did earlier in the month on the set of the film Oblivion.
As RadarOnline.com reported, Tom emerged from a Los Angeles restaurant over the the weekend looking stone-faced following the news that Top Gun director Tony Scott had apparently taken his own life.
The actor released a statement saying: "Tony was my dear friend and I will really miss him…