Sylvester Stallone: Late Son Sage 'Was A Lovely Boy, And I'll Always Treasure That'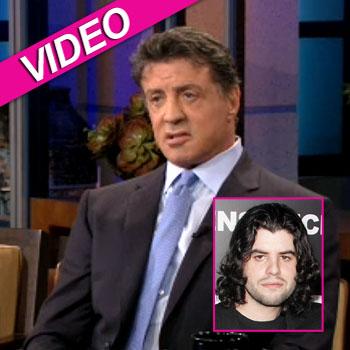 Sylvester Stallone, appearing on The Tonight Show Wednesday, said he's doing his best to keep occupied since his son Sage's death at 36 last month.
Host Jay Leno asked the screen legend if it helps him to be busy promoting his new film, The Expendables 2, during his toughest of times.
"When life hits you pretty hard, you can go into a dark corner or you can say, 'Ok, fine,' I'm going to find something to focus on -- children, your wife, be supportive to other people too, because I know a lot of people go through this and they don't get the attention that I do," the grieving father said. "And I feel for them, because it's one club that no one wants to be a member of, that's for sure.
Article continues below advertisement
"But I think about his memory, he was a lovely boy and I'll always treasure that."
Speaking with ABC News earlier this week, the 66-year-old called his son's premature passing "a reality of life," and imparted a similar message of moving on, and not dwelling on grief, during the toughest of times.
"I think it's important to get back and start reliving your life -- otherwise, you can go into a spiral."