Kristen Bell Keeps Interrupting Ryan Lochte's Tonight Show Appearance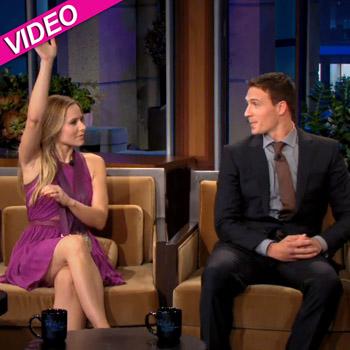 Ryan Lochte might be able to out-swim Michael Phelps, but there's no way he's stealing Kristen Bell's spotlight.
The swimming gold medalist appeared on The Tonight Show Thursday to talk about his accomplishments in London, but the Forgetting Sarah Marshall beauty (who appeared in the previous segment) jumped into Lochte's discussion five times, adding her witty exclamation points to an otherwise-perfunctory exchange between the jock and host Jay Leno.
Article continues below advertisement
Ryan, 28, came on the show wearing his gold medals, which the beautiful Bell immediately had to try on herself.
"They're so heavy," the attractive actress said. When Ryan described one intense stretch he had to go through in training, Bell raised her hand like an elementary school student and asked him to clarify what he meant.
Watch the video on RadarOnline.com
Leno told Ryan, "You know, I've heard you kinda leave things in the pool," referring to the swimmer's now-famous admission he'll relieve himself in the water when the urge strikes.
"We're in the pool for six hours straight -- no one is gonna raise their hand and say, 'Coach I got to go,'" he said, after which Kristen, 32, chimed in, "Cause no one else on earth has ever peed in a pool!"
After the Florida native described his outdoors, cross-training regimen, Kristen called it "a real hillbilly workout...I like it."
The five-medal winner, asked by Leno about the rumors he'll appear on The Bachelor or Dancing with the Stars, said he'd have to speak with his family before trading roses with any beauties, but might be apt to try his hand at the tango.
Article continues below advertisement
"I did, in college, I took a dancing class," Lochte said. "I got an 'A,' so you know what, I think I'd be pretty good at it."
With her perfectly-timed wit, Kristen baited Ryan, asking him, "Do you know how much training you have to do Dancing with the Stars?"
"Do you know how much training you have to do to swim?" a slightly-irritated Ryan shot back.
Kristen and her boyfriend Dax Shepard star in the film Hit and Run, which hits theaters August 22.