Kristen Bell & Dax Shepard Bring Their Romance To The Big Screen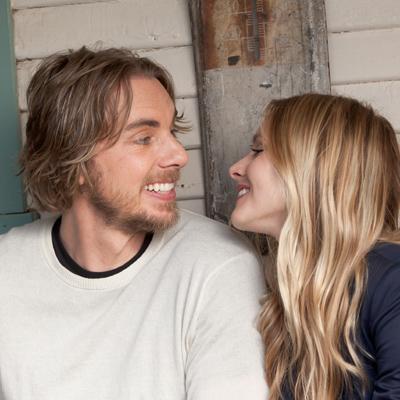 They may not have a clever nickname (we humbly nominate Daxten), but engaged stars Kristen Bell and Dax Shepard have become Hollywood's new power couple. And now they're taking the inevitable next step by starring together in Hit and Run, a film written and codirected by Dax about a former getaway driver who comes out of witness protection to help his girlfriend get to L.A. Dax and Kristen tell Star about becoming coworkers.
Article continues below advertisement
Was it difficult working together?
Dax: It could have gone south in a hurry, but it was the best six weeks of the five years we've been together. To have the same project and goal was a nice opportunity.
Kristen: We are also severely codependent. That makes everything easier.
Was it hard taking direction from your fiancé?
K: If you think he's cute now, try giving him a headset. It warmed my heart so much that I felt myself drifting instead of being in the scene. But Dax knows how to talk to me and get what he wants out of acting.
It sounds like you enjoyed seeing him in the director's chair.
K: I was sleeping with the writer, director and star!
D: You spread yourself real thin there.
What was your favorite scene?
D: Driving my race car down the Pacific Coast Highway. That was a life moment for me.
Did you guys do your own stunts?
K: It was all real. It felt like being on a roller coaster!