Kristen Bell Strips Down Into Her Bra And Panties In Racy New Show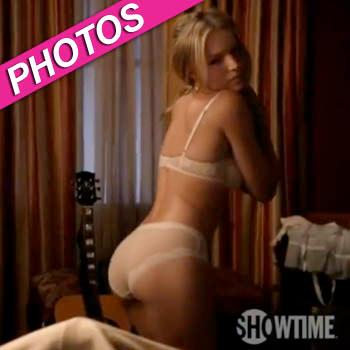 Now that's what we call a bombshell booty!
In a provocative new promo for her new television series, Kristen Bell strips down into a skimpy bra and panty set and shows off her gorgeous goods like never before – and RadarOnline.com has the video.
In House of Lies, which will debut on Showtime, January 8, the 31-year-old stars alongside Don Cheadle and Ben Schwartz in what is expected to be one the raciest new shows of the season.
Article continues below advertisement
RadarOnline.com has previewed the show, which is based on Martin Kihn's book House of Lies: How Management Consultants Steal Your Watch and Then Tell You the Time – and we can confirm that it pushes the sexy envelope to the max.
Bell plays Jeannie van Der Hooven, a money and power hungry consultant, who will do almost anything to get to the top.
The show also features sexy star-on-the-rise Dawn Olivieri as Cheadle's sex-crazed ex-wife, who is featured topless in several scenes.