Tom Arnold Had Comedy Central Guarantee Roseanne Barr Would Be Rosy At Roast, Report Says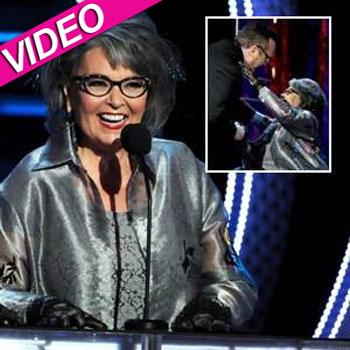 If you thought something was up when Roseanne Barr and ex-husband Tom Arnold cordially reunited at her Comedy Central roast after nearly two decades of estrangement … you thought right.
Tom, who hadn't spoken with Roseanne in 18 years since their nasty split in 1994, was courted by the network heavily to appear, but only did so with a mandate his ex say "something nice" about him, sources told the NY Post.
Article continues below advertisement
Watch the video on RadarOnline.com
"Comedy Central first approached Tom and wanted him to come onstage dressed as a waiter, and serve Roseanne a drink, then leave," a source told the paper. "He said, 'That's not gonna happen.' The network then came up with a series of other ideas that Arnold also shot down. But when execs said he could have free rein, Arnold agreed -- under one condition.
"Tom wanted assurance that Roseanne wasn't going to bad-mouth him … his reps went so far as to insist she say something nice about him in exchange for him doing the appearance."
Prior to the roast, Roseanne called Tom and "she told him, 'Maybe we can bury the hatchet,'" the paper reported.
At the roast, Tom said, "Why am I here? I'm here to honor Roseanne and because I earned it -- the hard way."
He then told Roseanne's current boyfriend, Johnny Argent: "You've gotta stay with this woman. She may not be the perfect wife, but she's literally the worst ex-wife on the planet."
Tom concluded his set with a classy speech about Roseanne's prodigal comic abilities.
Article continues below advertisement
"In 1985, Roseanne went on Johnny Carson, which is every comic's dream back then," he said. "She killed, he laughed his ass off, he gave her a thumbs up and he invited her to sit on his couch. She got validation from the king which can never be taken away from her. And I just want to say, Roseanne, you were my Johnny Carson. And thank you for the thumbs up and thank you for inviting me to sit on your couch for a little bit."
When Roseanne got up to the dais to return the fire, she hit Tom with a few powderpuff jabs.
"I'd really like to thank Tom for showing up tonight … he was very funny … but, Jesus Christ, how many bleeping jobs do I have to get for that guy?" she said. "If I can bury my roiling, boiling ceaseless hatred for the likes of Tom Arnold, maybe there's a chance we can have world peace."
Get More: Comedy Central,Funny Videos,Funny TV Shows