Drunk Again! Country Singer Randy Travis Busted For Naked DWI And Threatening Cops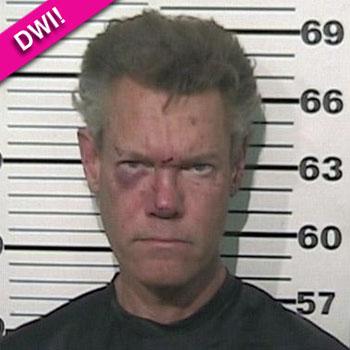 By Debbie Emery - RadarOnline.com Reporter
Country star Randy Travis just can't seem to stay away from the bottle, or keep his clothes on!
The 53-year-old singer was arrested on Tuesday night and charged with driving while intoxicated and threatening law officers after he crashed his car in Grayson County, north Texas, reported the Houston Chronicle.
When apprehended, the arresting officers saw more of the Honky Tonk Moon singer than they bargained as Travis was reportedly butt naked behind the wheel!
Article continues below advertisement
A mugshot released by the Grayson County Sheriff's Office shows him very much worse for wear – but fortunately clothed in a bloodied black tee-shirt – with a cut face and a black eye. Randy was later spotted leaving the county jail in scrubs and a University of Texas baseball cap, but no shoes.
This is the second brush with the law that Travis has had this year after a night on the sauce, as RadarOnline.com previously reported, he was arrested in the early hours of February 6 inside his car with an open bottle of wine outside of the First Baptist Church in Sanger, Texas. He later went on to blame his boozing on excessive celebration after the Super Bowl.
Travis' latest arrest came after the Sheriff's office received a 911 call at 11:18 p.m. about a man seen lying in a road west of Tioga, where the entertainer lives, and responding officers said a Pontiac Trans Am registered to Randy had been driven off the road and struck several barricades on a construction road.
Naked and reeking of booze, the country crooner allegedly made threats against the Texas troopers saying he would shoot them, said Department of Public Safety spokesman, Tom Vinger, he then refused sobriety tests, so a blood specimen was taken.
Article continues below advertisement
Travis was released on $21,500 bond Wednesday morning from the jail in Sherman, about 60 miles north of Dallas. Blood test results are pending.
Troubled Travis split from his wife, Elizabeth, in October 2010 after 19 years of marriage and three decades of her being his manager. Earlier this year she filed a lawsuit claiming that he made it impossible for her to do her job and terminated her management contract without proper notice. She claimed her ex-husband sent several men, including an armed guard, to clean out her offices.