Jodie Foster Defends Kristen Stewart: 'Eventually This All Passes'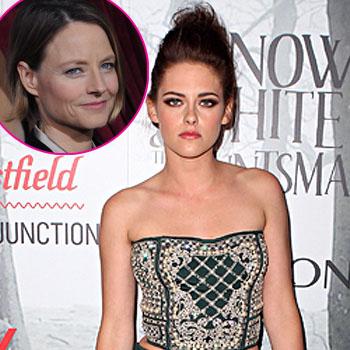 Article continues below advertisement
As Rob Pattinson embarks on his press tour for his movie Cosmopolis, Kristen learned that she's been dropped from the Snow White and the Huntsman sequel and has yet to be seen in public.
"We've all seen the headlines at the check-out counter. 'Kristen Stewart Caught.' We've all thumbed the glossy pages here and there. 'Kris and Rob a couple?' We all catch the snaps. 'I like that dress. I hate the hair. Cute couple. Bad shoes.' There's no guilt in acknowledging the human interest in public linens. It's as old as the hills. Lift up beautiful young people like gods and then pull them down to earth to gaze at their seams. See, they're just like us. But we seldom consider the childhoods we unknowingly destroy in the process," the two-time Oscar winner wrote about the brewing Kristen scandal.
"In 2001 I spent 5 months with Kristen Stewart on the set of Panic Room mostly holed up in a space the size of a Manhattan closet. We talked and laughed for hours, sharing spontaneous mysteries and venting our boredom. I grew to love that kid. She turned 11 during our shoot and on her birthday I organized a mariachi band to serenade her at the taco bar while she blew out her candles. She begrudgingly danced around a sombrero with me but soon rushed off to grip and electric department's basketball game.
Article continues below advertisement
"Her mother and I watched her jump around after the ball, hooting with every team basket. 'She doesn't want to be an actor when she grows up, does she?' I asked. Her mom sighed. 'Yes…unfortunately.' We both smiled and shrugged with an ambivalence born from experience. 'Can't you talk her out of it?' I offered. 'Oh, I've tried. She loves it. She just loves it.' More sighs. We watched her run around the court for a while, both of us silent, each thinking our own thoughts. I was pregnant at the time and found myself daydreaming of the child I might have soon. Would she be just like Kristen? All that beautiful talent and fearlessness…would she jump and dunk and make me so proud?"
Jodie has seen Kristen grow into one of the most sought after actresses in the business and become a woman at the center of a cheating scandal that isn't going away, and she described the changes she sees in Kristen as she's followed everywhere by photographers.
"A beautiful young woman strides down the sidewalk alone, head down, hands drawn into fists. She's walking fast, darting around huge men with black cameras thrusting at her mouth and chest. 'Kristen, how do you feel?' 'Smile Kris!' 'Hey, hey, did you get her?' 'I got her. I got her!' The young woman doesn't cry. F*ck no. She doesn't look up. She's learned. She keeps her head down, her shades on, fists in her pockets. Don't speak. Don't look. Don't cry."
Article continues below advertisement
Jodie writes that Kristen will make it through what must seem like a terrible time.
"My mother had a saying that she doled out after every small injustice, every heartbreak, every moment of abject suffering. 'This Too Shall Pass.' God, I hated that phrase. It always seemed so banal and out of touch, like she was telling me my pain was irrelevant. Now it just seems quaint, but oddly true…Eventually this all passes. The public horrors of today eventually blow away. And yes, you are changed by the awful wake of reckoning they leave behind. You trust less. You calculate your steps. You survive. Hopefully in the process you don't lose your ability to throw your arms in the air again and spin in wild abandon. That is the ultimate F.U. and--finally--the most beautiful survival tool of all. Don't let them take that away from you."