Holly Madison Pregnant With First Baby!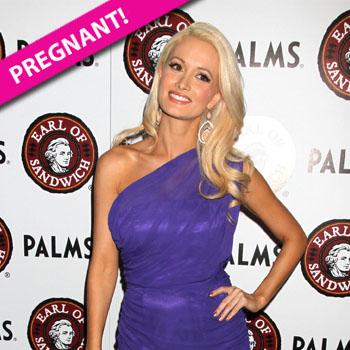 Holly Madison is expecting her first child, RadarOnline.com has learned.
The 33-year-old Playboy stunner, and star of the Las Vegas stage show Peepshow, is 12 weeks along and due in March. She celebrated the public announcement by tweeting a pic of a fortune cookie message that read, "The current year will bring you much happiness," to which she added, "I think so..."
The stunning Madison told US magazine she's "always wanted to be a mom … but I thought it would take longer!"
Article continues below advertisement
The dad is her boyfriend Pasquale Rotella, a 38-year-old party promoter. The two have been dating for nine months.
The Girls Next Door star told People earlier this year, "I've wanted kids and that's something I'm definitely doing as soon as possible. Definitely being with the right guy has a lot to do with it.
"My relationship is awesome. I'm happier than I've ever been in my personal life."
Holly, who once dated Playboy founder Hugh Hefner, is scheduled to perform in her last Peepshow gig December 30, though plans will likely change in light of the current news.