Don Johnson Unrecognizable In Montecito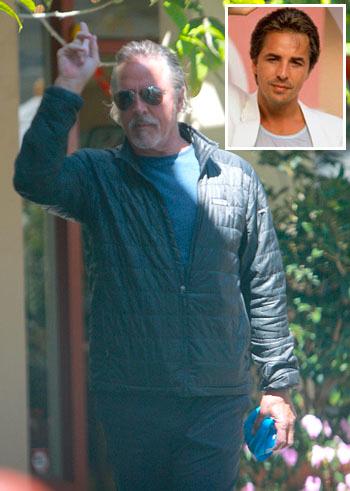 Don Johnson did his best Grizzly Adams impersonation Saturday in Montecito.
The former Miami Vice and Nash Bridges star, 62, was sporting a full beard and a puff jacket despite the warm summer heat on a visit to a restaurant near his home.
Ironically, at almost the exact same time, his ex-wife Melanie Griffith was making a glam appearance in Spain.
Johnson and his fourth wife, Kelley, moved to Montecito a year ago, renting Michael Douglas' ex-wife Diandra Douglas' fabulous estate.
Article continues below advertisement
He's just wrapped Django Unchained, Quentin Tarantino's next film, with Jamie Foxx and Leonardo DiCaprio.
Two years ago, Johnson was awarded $50 million in his case against his Nash Bridges producers Rysher Entertainment. With Johnson in the courtroom, Rysher's appeal was heard by a three-justice panel at the 2nd District Court of Appeal on July 27. Their decision is expected in October.
RELATED STORIES: