Devoted Dad Carries Severely Disabled Daughter As He Competes In Triathlons, Because She Loves Being Outside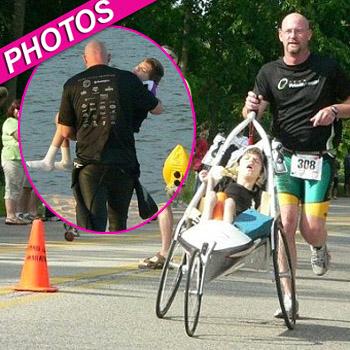 By Debbie Emery - Radar Reporter
It's a simple, yet beautiful, story of a father's love for his daughter.
A devoted dad has taken hands-on parenting to a whole new level by carrying his 13-year-old cerebral palsy-afflicted daughter with him on already-grueling triathlons.
Rick Van Beek of Byron Center, Michigan, is an unbeatable team when he runs with his daughter Maddy in his arms or pushing her in her stroller in the over 75 races that he's competed in since 2008, reported the New York Daily News.
Article continues below advertisement
Finishing first doesn't matter to the man who has been dubbed Father of the Year.
"I've never been disappointed crossing the finish line because I'm doing it with my daughter," he said.
A triathlon includes running, swimming and biking sections, but Van Beek doesn't let the different challenges get in the way of his father-daughter bonding.
During the swimming portion of the triathlon, Van Beek tows Maddy in a kayak. He then scoops up his girl, who weighs about 80 pounds and carries her to the biking leg, where he hitches up a special cart that he built for her to ride in.
"The hardest part for me is the transition from the swim to the bike because I carry her," the 39-year-old explained. "She has a fused spine, so it's like carrying a board."
Their latest achievement came on Sunday when "Team Maddy" competed in the Sanford and Sun triathlon/duathlon and endured horrendous rain that added to the hardship of the race.
"This is our fourth year running, and our third year doing triathlons together. This is our seventh or eighth triathlon this summer," Van Beek, who quit smoking and chewing tobacco to start running, told the Midland Daily News.
Article continues below advertisement
"It was a long process to get to where I am now, and I'm still not fast, but we enjoy the time together."
Born with very severe cerebral palsy, Maddy functions physically like an able bodied three-month-old and can't walk or talk -- in addition, Maddy is unable to see. "One of the very few things that we know she enjoys is being outside, being in the water, feeling the breeze in her hair and in her face, and going over all the bumps," revealed her dad.
"If she's not having fun, we stop," said Van Beek, adding that he's pulled her out of races when she wasn't feeling well or the weather was too hot.
Van Beek decided to start racing after he and Maddy took part in the Grand Rapids Marathon about four years ago through the Ride of Their Lives program, which pairs abled-bodied athletes and kids with special needs and they often now run for charity to raise funds to build equipment and adaptive devices.
"It's about putting one foot in front of the other," he revealed, when asked how he doesn't give up in the face of adversity. "It doesn't matter how long it takes to get to the finish line, it's about you and that you got there."
RELATED STORIES:
Disfigured Model Lauren Scruggs Suffered 'Toughest Week Yet'