Exclusive
Daddy's Girl! Inside Tom Cruise's Emotional & Fun Packed Reunion With 'Precious' Suri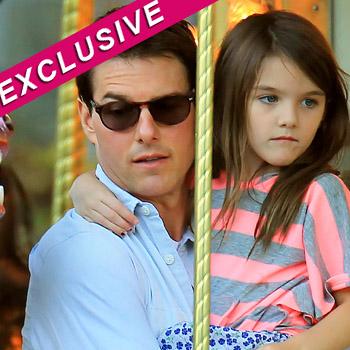 Article continues below advertisement
Katie, 33, refused to see Tom, so it was Suri's nanny who handed her over. That Tuesday, it was 98°F in NYC, and Star's undercover reporter found Tom and Suri by the pool.
The doting dad and his daughter played "catch," where Suri would paddle around the pool on a foam noodle as Tom chased her. They also played a game where she was always safe on her "sea horse."
He would swim up to her and say hello as though he was a different water creature. At one point, she mentioned she was scared of sharks and he kept telling her that she was "safe" on her sea horse. He also taught her how to shoot water out of the foam noodles and blow bubbles in the water.
Whenever Suri asked Tom a question, he addressed her as "Precious."
When Tom and Suri finally got out of the pool, he wrapped her in two towels, then embraced her in his arms for a good minute. He then had her "snuggle" in the chair while he put on a gray T-shirt, black shorts and Nike Air Jordans.
Then he put Suri's pink patent-leather shoes on her and slipped her pink cardigan over her floral print, one-piece bathing suit. He offered to carry her upstairs, but she said she could walk by herself. They raced each other through the locker rooms to the other side.
Article continues below advertisement
Suri told him to wait until she said, "Go!" and then they raced through.
Tom spent the rest of his three days with Suri doing what he does best: spoiling her.
On Wednesday, he whisked her off on a helicopter to East Hampton, where they spent the day playing on the beach.
"Tom spared no expense during his reunion with Suri," an insider tells Star.
For more details from Tom and Suri's first visit together pick up the newest issue of Star magazine on newsstands Thursday.