Oops! 10 Really Bad Makeup Mishaps & Malfunctions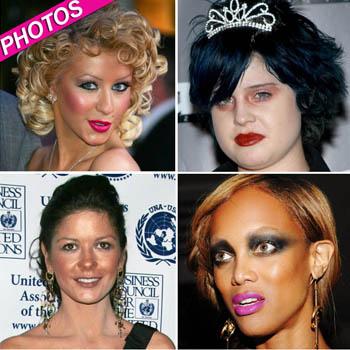 Makeup is supposed to make you look better, not worse!
They may have the most experienced makeup artists on speed dial, but that does protect Hollywood's hottest stars from experiencing embarrassing facial faux pas! From overly powdered faces and bronzer gone wrong to over the top lash extensions, RadarOnline.com has photos of 10 really bad makeup mishaps and malfunctions.
Fun makeup colors definitely make a statement, but not always for the best! Christina Aguilera and Tyra Banks have both experienced the wrath of vibrant hues gone wrong, resulting in beauty blunders.
Article continues below advertisement
Not everyone looks better with a tan! Catherine Zeta-Jones hit a red carpet, speckling her porcelain perfect face with too-dark bronzer, making her look more dirty than divine.
Paz de la Huerta is famous for her embarrassing wardrobe malfunctions, but the Boardwalk Empire bad girl attracted a different kind of attention at the 2011 Emmy Awards, when she hit the red carpet with a majorly flawed face of makeup.
What other stars have committed really bad makeup mishaps and malfunctions? Find out by clicking here.