Bombshell Beauty Blunders! 10 More Really Bad Makeup Malfunctions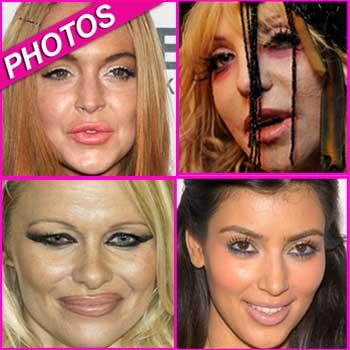 Hollywood stars aren't always flawlessly faced!
They may have the top makeup artists and the most expensive beauty products that money can buy at their disposal, but that doesn't save the hottest celebrities from experiencing incredibly embarrassing makeup malfunctions. RadarOnline.com has photos of 10 more stars and their really bad makeup malfunctions.
Most people try and avoid getting pink-eye, but not Courtney Love! The Hole singer wasn't looking so hot lathered up in pink eyeshadow, also sporting some rather crusty foundation and freaky eyelashes.
Article continues below advertisement
Lipstick is supposed to go on the lips, Lindsay Lohan, not outside of them! The scandalous starlet, who has hit more than one red carpet looking like a hot mess, is famous for painting her large pout outside of the lines.
Taylor Momsen and Ke$ha love to shock with their stage style, but sometimes the young singers take it to the extreme. While Momsen is Pretty Reckless with her raccoon eyes, Ke$ha's embellished eyebrows and metallic lipstick make her look more scary than sexy.
What other stars have experienced embarrassing makeup malfunctions? Find out by clicking here.