Happy Birthday, Jessica Simpson! See Her Changing Body Over The Years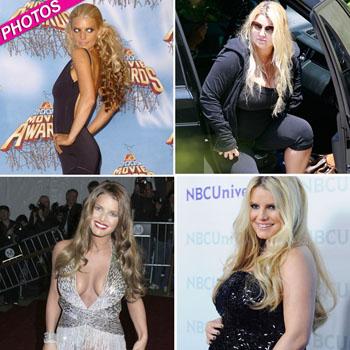 Happy birthday Jessica Simpson!
The new mom, who is celebrating her 32nd on Tuesday, has been in the public eye for more than a decade. Gaining fame in 1999 as a pop singer, Jessica's career, personal life and body have undergone dramatic changes over the years – and RadarOnline.com is honoring the blonde beauty on her special day with photos of her transformation from then to now.
Getting signed to Colombia Records by Tommy Mottola when she was only 16 years old, Simpson's debut album hit the charts in 1999 when she was 19, making her an overnight success.
Article continues below advertisement
After meeting Nick Lachey while recording her album, the hot-bodied blonde, who has insisted that she was a virgin until her wedding night, started dating the 98 Degrees star.
Though the two briefly split while Simpson was recording her follow-up album, Irresistible, in 2001, so she could focus on her career and steam up her image a little, the duo got back together and married on October 26, 2002.
With the advent of the MTV show Newlyweds: Nick and Jessica, which documented the couple's life as man and wife, Jessica added 'reality star' to her resume – but it didn't help her music career. Her third album released in 2003, In This Skin, was a commercial disappointment.
In 2005, Jessica starred in the remake of Dukes of Hazzard, where she famously dropped a lot of weight and showed off her skinnier than ever body in skimpy Daisy dukes.
Article continues below advertisement
Months after the film's release, Jessica and Nick announced their separation, as rumors of infidelity swirled around Hollywood. Shortly after, she released another album, A Public Affair, which performed better than her last. She also acted in a few more box office bombs, Employee of the Month and Blonde Ambition. But it was her fashion company that shockingly proved her star power. The Jessica Simpson Collection, which she launched in 2005, raked in $750 million in 2010, making it one of the most successful celebrity fashion empires of all times.
Article continues below advertisement
The couple split in 2009, just before her 29th birthday, and she continued to struggle with the pressure to drop weight.
In 2010, because of her experiences, she debuted a documentary series The Price of Beauty, which aimed at exposing different ideas of beauty in different cultures.
That same year, she started dating NFL player Eric Johnson, and the two announced their engagement shortly after. As Jessica continued to gain weight, the baby rumors swirled, and the couple confirmed they were expecting in October 2011.