Barbara Walters 'Appalled' By George Zimmerman's Lofty Demands For Interview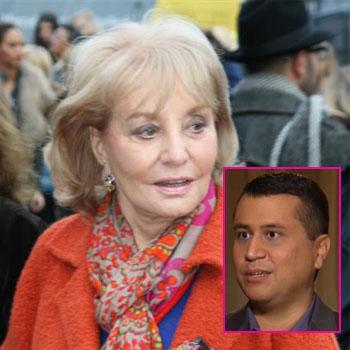 Barbara Walters passed on an interview with George Zimmerman, RadarOnline.com has learned, after the accused murderer demanded he be compensated with a month's stay at a hotel on ABC's dime at the last minute.
The veteran journalist -- who met with the embattled Zimmerman in his home state of Florida Wednesday -- was "appalled" by his demands, the NY Post reports.
"She went down there with every intention of doing an interview, but Mr. Zimmerman made a demand at the last minute that we could not and would never agree to," an ABC News official told the paper.
Article continues below advertisement
Speaking with Sean Hannity Wednesday, Zimmerman said the sequence of events that led to him shooting 17-year-old Trayvon Martin "was all God's plan," and that he wouldn't do anything differently if given the chance.
"I feel that it was all God's plan, and for me to second guess it or judge it," Zimmerman said. When Hannity asked him, "Is there anything you might do differently?" Zimmerman responded, "No, sir."
At the conclusion of the interview, Zimmerman revisited his eyebrow-raising remark "to readdress on whether I'd do anything differently.
"I do want to tell everyone, my wife, my family, my parents, my grandmother, the Martins, the city of Sanford and America that I'm sorry that this happened," Zimmerman said. "I hate to think that because of this incident, because my actions, it's polarized and divided Americans. And I'm truly sorry."
Article continues below advertisement
Zimmerman -- who's currently free on $1 million bail -- is charged with second-degree murder in the February 26 shooting of the 17-year-old.
In response to the interview, Trayvon Martin's family issued a statement through their attorney.
"George Zimmerman said that he does not regret getting out of his vehicle, he does not regret following Trayvon, in fact he does not regret anything he did that night. He wouldn't do anything different and he concluded it was God's plan," the statement said.