Barbara Walters Blows Off George Zimmerman After Botched Interview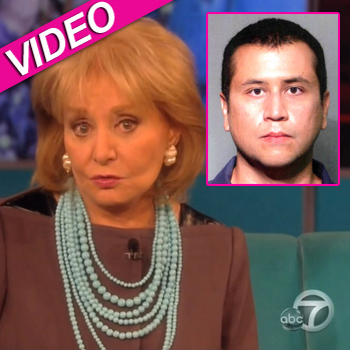 Barbara Walters blew off a live phone interview with George Zimmerman on The View Thursday, returning the favor after she traveled to Orlando, Florida a day before for the same reason and was rebuffed.
With very limited time in the show left, Zimmerman surprised Walters by calling into the show to talk about his exchange with Barbara, who said "I don't think we should" bother with the chat in such an impromptu, haphazard and brief fashion. (The remaining time on The View was devoted to a segment with singer/songwriter Paul Williams.)
Article continues below advertisement
Earlier in the show, Walters explained her run-in with Zimmerman on Wednesday, saying the interview she hoped to do was thwarted when the sides couldn't come to an agreement regards the terms of the chat.
"I won't go into it," she said, adding her impression of Zimmerman is that he's "desperate for money" and "very worried about his family."
She added Zimmerman told her he has African American blood in his family on his grandmother's side.
As we previously reported, the NY Post said the veteran journalist was "appalled" by his demands of a month-long hotel room for he and his wife.
"She went down there with every intention of doing an interview, but Mr. Zimmerman made a demand at the last minute that we could not and would never agree to," an ABC News official told the paper.
Speaking with Sean Hannity Wednesday, Zimmerman said the sequence of events that led to him shooting 17-year-old Trayvon Martin "was all God's plan," and that he wouldn't do anything differently if given the chance.
Article continues below advertisement
"I feel that it was all God's plan, and for me to second guess it or judge it," Zimmerman said. When Hannity asked him, "Is there anything you might do differently?" Zimmerman responded, "No, sir."
At the conclusion of the interview, Zimmerman revisited his eyebrow-raising remark "to readdress on whether I'd do anything differently.
"I do want to tell everyone, my wife, my family, my parents, my grandmother, the Martins, the city of Sanford and America that I'm sorry that this happened," Zimmerman said. "I hate to think that because of this incident, because my actions, it's polarized and divided Americans. And I'm truly sorry."
Zimmerman -- who's currently free on $1 million bail -- is charged with second-degree murder in the February 26 shooting of the 17-year-old.
Watch Barbara's response when Zimmerman calls into The View:
radar_embed service=5min.com src=" http://pshared.5min.com/Scripts/PlayerSeed.js?sid=1126&width=486&height=412&playList=517708401&sequential=1&shuffle=0"
Watch Barbara talk about the botched interview with Zimmerman:
Article continues below advertisement