George Zimmerman Re-Enacts Trayvon Martin Shooting For Police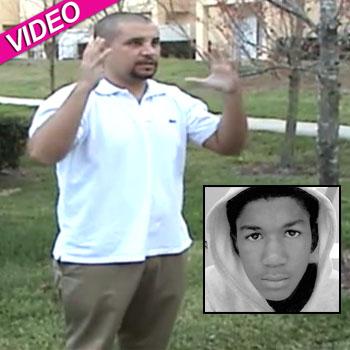 We've got new info on the ongoing Trayvon Martin case, as a video released by the lawyer for George Zimmerman shows the murder suspect re-enacting the February 26 incident for authorities for 20 minutes the following day.
"He took my head and slammed it against the concrete several times, and each time I thought my head was going to explode and I thought I was going to lose consciousness," Zimmerman tells police in the clip.
Article continues below advertisement
Zimmerman said that after he began "screaming for help," Martin covered his mouth and nose.
"He told me to shut the f*ck up, and I was suffocating," Zimmerman said. "I didn't want him to keep slamming my head on the concrete so I kind of shifted. But when I shifted my jacket came up … and it exposed my firearm. That's when he said, 'You are going to die tonight' He took one hand off my mouth, and slid it down my chest.
"I took my gun aimed it at him and fired," Zimmerman said. "I shot him, and I didn't think I hit him because he sat up and said, 'Oh you got me. You got me, you got it.'"
Zimmerman said when he first laid eyes on the teen, "I just felt like something was off about him … and there's been a history of break-ins ... so I said you know just better to call. I kept driving and I passed him, and he kept staring at me and staring around."
Article continues below advertisement
In a subsequent February 29 interrogation, investigator Chris Serino asked the neighborhood watch volunteer, "Had this person been white would you have felt the same way?"
"Yes," Zimmerman said.
Zimmerman -- who's currently in custody — is charged with second-degree murder in the fatal shooting of the 17-year-old. The case has caused national controversy, as Zimmerman was not arrested for 44 days following the shooting. Sanford City Manager Norton Bonaparte fired police chief Bill Lee, a lightning rod of criticism for his perceived inaction, on Wednesday.