Fred Willard Tweets About Adult Theater Arrest, Calls It 'PG' And Promises 'Full Story To Follow'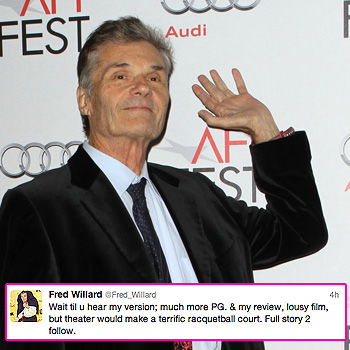 By Debbie Emery - Radar Reporter
Rather than being embarrassed about his arrest in an adult movie theater last week, comedian Fred Willard has turned it into a laughing matter and made light of the incident.
"Wait til u hear my version; much more PG. & my review, lousy film, but theater would make a terrific racquetball court," the veteran TV and movie actor wrote on Twitter on Monday. "The Full story 2 follow."
Article continues below advertisement
As RadarOnline.com previously reported, Willard was taken into custody for lewd conduct last Wednesday night after he was allegedly caught at an adult movie theater with his genitals exposed and his pants down.
The 78-year-old Ohio native was arrested at 8:45 p.m. at the Tiki Theatre in Hollywood, and he was later cited and released and a mug shot was taken, police said, adding he was "cooperative" with authorities in the ordeal.
In a later tweet, the actor, who was also fired by PBS as the voice of Market Warriors after the alleged incident, reminded his almost 63,000 followers that he is still the host of an ABC improv comedy show.
"I was not fired from TUWYL so B sure 2 watch Trust Us With Your Life Tues, ABC 9," he wrote in the not-so subtle plug.
Willard has appeared in many films and TV shows including Harold & Kumar Go to White Castle, Anchorman, Best in Show, For Your Consideration, American Wedding and Everybody Loves Raymond.