Exclusive
Fire Ravages 'Die Hard 5' Set In Budapest: Bruce Willis To The Rescue!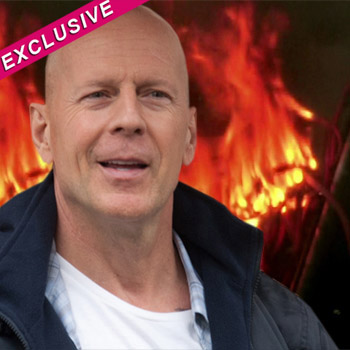 Like a scene out of an action movie, a five story building used to shoot Die Hard 5 in Budapest, accidentally burst into flames Thursday, RadarOnline.com is exclusively reporting.
Bruce Willis, who is reprising his famous John McClane character, took the afternoon off to go to his Budapest hotel and deal with more daughter drama - First daughter Tallulah's nude photo scandal and then Rumer phoning to say her beloved pooch had gone missing.
Article continues below advertisement
But in the middle of his daddy duty, he got a call to rush to the set of the film because a building where they planned to shoot for the next five days, was burning out of control.
Sources tell RadarOnline.com that the building was constructed out of wood just for the shoot, and Thursday afternoon, a fire was supposed to break out in the lobby of the place just as a helicopter was about to land. Willis's stunt double was working and when the helicopter attempted to land, no one counted on the fact that the blades, that are estimated to be about 200 ft. in circumference, fanned the fire to such an extent that it sent flames racing throughout the entire building!
The stunt double narrowly escaped injury and fire brigades from the surrounding areas appeared on scene to try to contain the blaze.
Willis arrived just moments after the blaze started and attempted to help salvage equipment and cameras that were in danger of being destroyed. Now producers are at a loss of what to do, since they can't shoot on the set that took two months to construct!
RELATED STORIES: