Even More Child Stars Who've Gone Under The Knife & More Who Haven't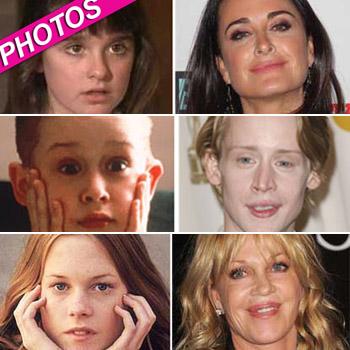 They have been famous nearly their whole lives, but not all child stars have naturally aged before our eyes.
From television darlings to Academy Award winning kids, these young actors have grown up into adults in front of the cameras, but not all of them are even recognizable anymore. In the third part of our special photo feature, RadarOnline.com has even more child stars who have gone under the knife and more who haven't.
Article continues below advertisement
Does plastic surgery run in the Richards family? Before she became a Real Housewife of Beverly Hills, Paris Hilton's aunt Kyle Richards was a child star on Little House on the Prairie. And like her sister Kim, the stunning brunette has admitted to getting a nose job as well as Botox.
In the public eye since she was extremely young and appearing in her first commercial when she was only nine months old, 54-year-old Melanie Griffith is rumored to have undergone multiple plastic surgery procedures over the years – and the proof is in the pictures.
Molly Ringwald, who got her acting career started when she was ten, was the adorable girl next door in several John Hughes' treasured movies, Sixteen Candles. Now playing a mother on The Secret Life of an American Teenager, the famous redhead is still cute without any surgery.
Which child stars have and haven't gone under the knife? Find out by clicking here.