Not So Hot-Headed! 10 Celebrities Having Really Bad Hair Days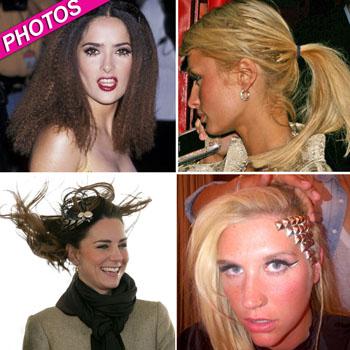 Even the biggest stars in Hollywood have bad hair days!
They may have access to the hottest hairdressers in the world, but these sexy celebrities can't avoid experiencing major tress disasters. From desperately needed dye jobs to indulging in the worst trends of the 1990s, RadarOnline.com has photos of 10 celebrities having really bad hair days.
Extensions are meant to make you look more glamorous, but when the weave is exposed, all bets are off!  Paris Hilton, who is famous for her long, fake blonde locks, experienced embarrassment when her ponytail pulled a little too hard, revealing the handy work of her hairdresser.
Article continues below advertisement
Remember crimpers? Salma Hayek resurrected the trend of generations past, hitting a red carpet with micro waves plaguing her dark locks.
Even a princess has a bad hair day! Kate Middleton experienced some major fly-aways during a recent promotional appearance, when a gust of wind ruined her perfectly coiffed 'do into a don't.
It's no secret that Pamela Anderson isn't a natural blonde, but you would think that the Baywatch babe would be a little better at keeping her color up by touching up her extremely dark roots.
What other stars have experienced really bad hair days? Find out by clicking here.