Being Rich And Famous Has Its Beauty Perks! Hilarious Portrayals Of Celebs As 'Regular Folk'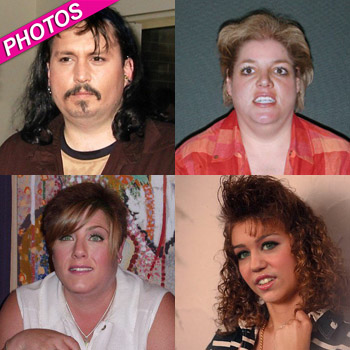 What would Hollywood's hottest stars look like if they were just normal people?
Celebrated pop artist Danny Evans has become an internet sensation after launching the hilarious Planet Hiltron, a hub devoted to what the rich and famous would look like if they were average folk – and RadarOnline.com has all of the hilarious images from the talented artist himself!
Jennifer Aniston may be considered one the sexiest women alive but the former Friend wouldn't be looking quite so foxy if she was just Jenny from the block!
Article continues below advertisement
Ever wonder what one of the richest teens in the world would look like as an average mallrat? 19-year-old Miley Cyrus is featured rocking a perm, big bangs and totally 1985 duds in Evans' hilarious image.
We have seen Britney Spears sport several shocking looks over the years, but we have never witnessed this frumpy-to-max side of the Kentwood, Louisiana native!
And Johnny Depp may be Hollywood's sexiest new single, but the longtime heartthrob looks more like porn legend Ron Jeremy than a smokin' hot pirate!