Couple Building The Biggest & Gaudiest Mansion: Take A Peek Inside The American Palace Of Versailles!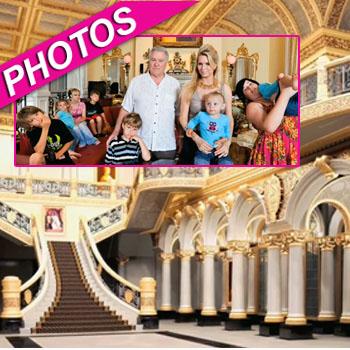 By Debbie Emery - RadarOnline.com Reporter
A larger-than-life couple are dreaming of becoming the American Versailles when renovations on their opulent – and many might say, gaudy – mansion are complete, and RadarOnline.com has photos of the colorful family in their 30-bedroom palace.
While owner David Siegel and his former beauty pageant wife, Jackie, are far from royalty, they believe their mammoth mansion in Windermere, Florida, is fit for a queen and are spending a fortune in construction so that it will one day be the biggest house in the U.S., reported the New York Daily News.
Article continues below advertisement
Their aspirations of glitz, grandeur and owning record-breaking real estate have launched the couple's on-screen career and they are now stars of a documentary, The Queen of Versailles, which premiered at the Sundance Film Festival in January, and captured the construction project as the recession hit.
Located in the Orlando gated community of The Reserve at Lake Butler Sound, the 90,000 square-foot property is modeled after France's famous Palace of Versailles, but even the regal inspiration couldn't stop its asking price being slashed by $10 million to $65 million, and with only two-thirds of the building work completed on the house, the Siegels still have an estimated $30 million of work to do.
Overflowing with gold, marble pillars and sparkling chandeliers, the massive McMansion proves that you can't buy class and has been described as the epitome of trashy bad taste.
Juggling seven children plus a niece they adopted, pets and a house full of toys, the 76-year-old business man and his 46-year-old trophy wife are currently living in another $7 million, 26,000-square-foot house nearby.
Once completed, the kids will have their own wing of Versailles, complete with a movie theater and computer center, according to BusinessWeek, and the house will also boast a bowling alley, a skating rink, a gym and a wine cellar with room for 20,000 bottles – even though Siegel claims he doesn't even like wine.