The X Factor's Simon Cowell Increasingly Concerned About Britney Spears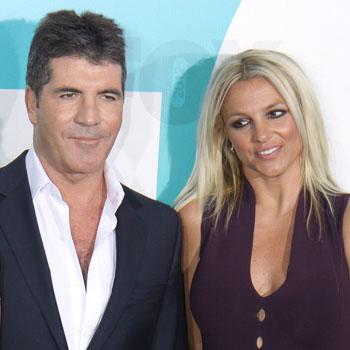 Did Simon Cowell bet $15 million on a losing hand?
The music mastermind is reportedly growing increasingly concerned with the attitude and behavior of Britney Spears, his prize acquisition for The X Factor.
A source tells Mirror UK that Cowell, who's missed some of the auditions due to illness, has been checking in on Britney with show officials everyday after a number of incidents have revealed the 30-year-old entertainer might be wilting in the spotlight of her high-profile gig.
Article continues below advertisement
During recent tapings in Kansas City, Britney abruptly left the stage -- it's not the first time this has occurred -- leaving the crowd chanting, "Where's Britney?"
The source told Mirror UK: "It's embarrassing to have an empty seat on the panel in filming sessions, as the footage is almost totally wasted. If a great singer appears, and producers want to use the audition, you have to tell viewers why Britney wasn't there.
"That's not easy."
An insider says Britney's huge salary "could be the biggest gamble Simon has ever made" in a career full of them.
Britney's manager, Larry Rudolph, denies there's any backstage drama with the Toxic singer. "What is everyone's problem? Every time Britney stands up or wants to go to the bathroom she gets accused of walking off. Everything is fine, she's loving The X Factor."
As we previously reported, Britney and Disney diva Demi Lovato filled the spots vacated by Nicole Scherzinger and Paula Abdul after Simon shook things up following the show's first season in the states. With Jennifer Lopez and Christina Aguilera having both thrived in their respective stints on American Idol and The Voice, the competition for The X Factor spots were fierce, as Avril Lavigne, Janet Jackson and Mariah Carey were all speculated-upon options before the show's organizers decided upon Britney and Demi.