Exclusive
Sister Wives Star Reveals Heartbreaking Miscarriage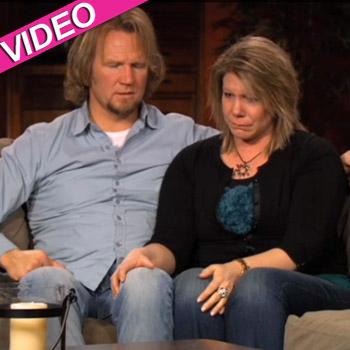 Article continues below advertisement
"I completely assumed that after I had Mariah it would be very easy for me to conceive again and that just didn't happen," Meri said.
"After years of a roller coaster, we had backed off…and I was late again. And I decided to take another pregnancy test and it was positive."
Meri begins to cry as she recalled their fateful next visit to the doctor.
"We had an appointment at the doc to hear the heartbeat, I was at about 10 weeks and we were so excited. And we went in and they couldn't hear the heartbeat."
Kody gets choked up as he remembered what they were told.
"The doctor just said this is not a viable pregnancy, we were just back to a dark place."
A very emotional Meri revealed the devastation she felt.
"I was so frustrated and so angry. I didn't understand why after another 12 years of trying and then it was just taken away from us and I didn't understand that. It was really hard."
Watch the video of Kody and Meri reliving their heartbreaking news about losing what would have been their second child together and check out the upcoming episode where Meri decides to visit a fertility doctor to explore her options for having another baby.