Exclusive
'So Crazy' Sister Wives Don't Want To Change People's Beliefs, Just Be Accepted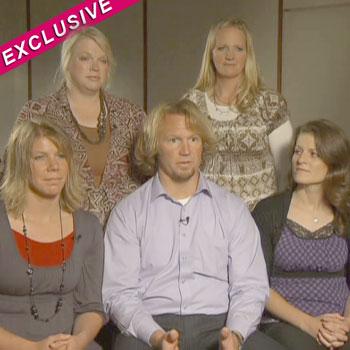 Article continues below advertisement
"I think there is a misconception," Christine says. "We balance our time, we still have kids that do every sport on the planet, and people just don't get any of that. Just because we are documenting our lives on camera doesn't mean the cameras are always there."
Robyn, who gave birth to her first child with Kody, a baby boy named Solomon, in December, pulls the curtain back on what the family actually thinks about their lives.
"There are days when I watch the show and I am like 'we are so crazy!' We are so loud, it is so chaotic. But I don't know how you can watch the show and not love the kids."
The women are reluctant to dish any secrets on Kody, but they do reveal that he has a soft side that many people don't see.
"Kody gets embarrassed about how hard working he is with the family. He never watches TV, he hangs out with guy friends rarely, he hangs with his family and that's his favorite thing to do," Christine says.
Article continues below advertisement
The family has met with much resistance over their lifestyle but they say they aren't trying to make people conform to what they do, just understand.
"It's not about trying to get somebody to believe what you believe; it is trying to accept them," Meri tells RadarOnline.com. "I think what people misunderstand about us that we might be trying to get people to think this is what they have to do. It's not; it's just what we choose to do."
Kody echoes that feeling.
"We never sought to change what people do. Doing the show was all about having other people look at our lives and understand it. We don't want to sell you on it we just want you to understand that this is how we've chosen to be and allow us to be," he says.
The new season of Sister Wives premieres Sunday, May 13 on TLC at 9/8.
RELATED STORIES: