16-Year-Old Russian Fire Dancer Sets Her Face And Hands Ablaze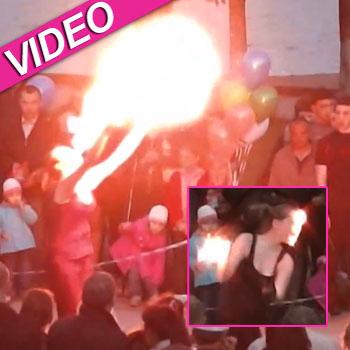 By Debbie Emery - RadarOnline.com Reporter
What started out as cool trick almost ended in disaster when a teenage Russian fire dancer got too close to the flames she was juggling, and RadarOnline.com has dramatic video of her heated performance.
Polina Druzhinina, 16, was spinning burning balls soaked in kerosene for a Children's Day performance in the city of Tver on Friday, reported the Huffington Post, and while the crowd was entranced by her flying flames the young performer accidentally set fire to her face.
Article continues below advertisement
As she desperately flung her props to the ground, the young dancer tried to put out the flames but instead fueled the blaze and burning her hands as well.
"I can hardly remember anything. When my face started burning and when it was all over, it feels like it was not happening to me," Druzhinina told local newspaper Komsomolskaya Pravda. "I can only remember that it was very hot on the face, I remember the cold grass too. I remember I was washing my face with the water from the river and then they took me to the hospital."
Luckily the teen was saved by a quick-thinking member of the audience who flung a coat around her to put out the fire. Thanks to her hero, Polina only suffered from minor burns and is expected to make a full recovery within a few weeks.
Watch video of the dramatic incident below:
RELATED STORIES:
Kat Von D Sued By State Farm For More Than $900K, Saying She Caused House Fire
4-Alarm Fire Damages Tyler Perry Studios In Atlanta